Harrachov can be found in the most popular Czech mountains Krkonoše where the skiing tradition, Czech glass and production of beautiful jewelry inlaid with garnets was born. Around Harrachov is a network of bike paths, hiking and cross-country trails that cater to beginners and advanced athletes.
The actual location of the Wellness hotel Harrachovka**** is in a quiet and green part of Harrachov that creates a relaxed atmosphere, which contributes to the family environment as well as its selection of international cuisine and Czech specialties. The combination of active sports, including adrenaline sports and wellness programs leaves no doubt that Harrachovka**** is an ideal place for recreation and relaxation. Therefore, here goes visitors of all ages and interests, families with children, seniors, both smaller and larger groups of visitors. The hotel offers good facilities for corporate events and all-day entertainment programs.
Hotel Harrachovka ****
45 rooms 114 beds
single, double, triple, family rooms and presidential suites. Hotel is completely non-smoking, there are places reserved for smokers.


Room Facilities:
safe, minibar, TV, WI-FI


Hotel reception with the sale of gift items.



A la carte restaurant, with summer terrace, sandpit and trampoline for the youngest guests of the hotel. Delicatessen from the grill, Czech and international cuisine can be enjoyed while sitting under umbrellas in a beautiful setting on the river Kamenice. The hotel's dining room is for 70 persons, here we serve a breakfast buffet and dinner buffet or five-course menu. It depends on the particular occupancy of the hotel. Conference room for 60 people theater-style or 40 people school arrangement.



Wellness reception with a children's area and a seating area with TV.


There is an extensive wellness center, a swimming pool 8 x 4 m, saltcave, steam bath, infrared sauna, fitness (exercise bike, orbitrek, treadmill, gymballs etc.), vibration platform. We can offer various types of massages (eg, hot stone massage, detoxification honey, chocolate, aromatic massage and many others). Different kinds of wraps (coconut, chocolate, cranberry, etc.), peeling, paraffin hand or face, peat, cosmetics, manicure, pedicure, whirlpool baths for hands or feet, romantic whirlpool bath for two persons, and many other procedures. Indoor swimming pool of 8 x 4 m, depth 1.5 m water temperature of 26 ° C is suitable for swimming and water exercise. It also includes a relaxing chairs.




Saltcave is a place recommended not only for healing, but also a place of peace and relaxation beneficial acting to strengthen the mental and physical condition. The soothing atmosphere is served in the comfortable chair that enhance the relaxing music. In a salt cave induces positive effects in asthma, psoriasis, reduces the symptoms of some allergies and positively stimulates the immune system. Small children can build castles of salt crystals, so they come into direct contact with salt minerals they need after an intense workout.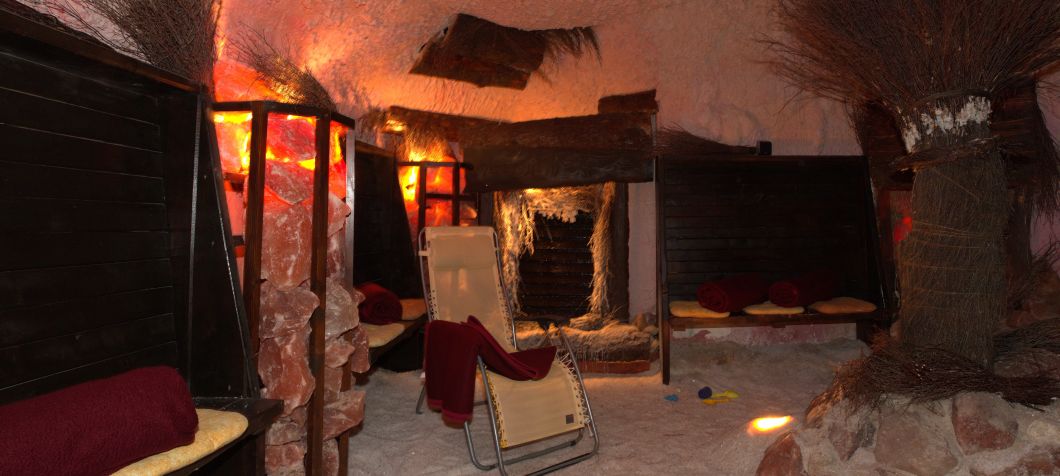 Vibration platform is ideal for strengthening the muscles of the whole body, slimming thighs and maintain physical fitness. Removes fat from the buttocks, waist and abdomen, and thus becomes the ideal tool for shaping. Vibration penetrate the hard and soft tissues of the organism and thereby support the neuromuscular system, blood circulation, cartilage and bone and even hormonal system. Used to rehabilitation and to increase overall fitness. Fitness - exercise on trainers such as bicycle, orbitrek, treadmill, Gymballs, etc.used for the overall recovery of the organism, firming, strengthening and stretching shortened muscles and flabby. It also helps to reduce overweight and mental relaxation.
Massage