There is an extensive wellness center, a swimming pool 8x4 m, saltcave, steam bath, infrared sauna, fitness (exercise bike, orbitrek, treadmill, gymballs etc.), vibration platform. We can offer various types of massages (eg, hot stone massage, detoxification honey, chocolate, aromatic massage and many others). Different kinds of wraps (coconut, chocolate, cranberry, etc.), peeling, paraffin hand or face, peat, cosmetics, manicure, pedicure, whirlpool baths for hands or feet, romantic whirlpool bath for two persons, and many other procedures. Indoor swimming pool of 8x4 m, depth 1.5 m water temperature of 26 ° C is suitable for swimming and water exercise. It also includes a relaxing chairs.




Saltcave is a place recommended not only for healing, but also a place of peace and relaxation beneficial acting to strengthen the mental and physical condition. The soothing atmosphere is served in the comfortable chair that enhance the relaxing music. In a salt cave induces positive effects in asthma, psoriasis, reduces the symptoms of some allergies and positively stimulates the immune system. Small children can build castles of salt crystals, so they come into direct contact with salt minerals they need after an intense workout.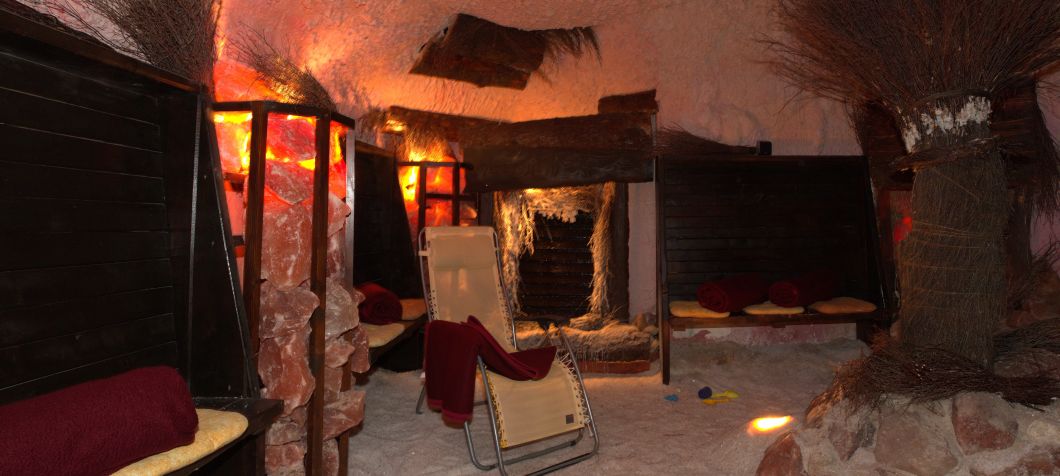 Vibration platform is ideal for strengthening the muscles of the whole body, slimming thighs and maintain physical fitness. Removes fat from the buttocks, waist and abdomen, and thus becomes the ideal tool for shaping. Vibration penetrate the hard and soft tissues of the organism and thereby support the neuromuscular system, blood circulation, cartilage and bone and even hormonal system. Used to rehabilitation and to increase overall fitness. Fitness - exercise on trainers such as bicycle, orbitrek, treadmill, Gymballs, etc.used for the overall recovery of the organism, firming, strengthening and stretching shortened muscles and flabby. It also helps to reduce overweight and mental relaxation.
MASSAGE

Classical massage
Honey massage
- application a small amount of honey, which is spread by moving her hands and uses the power vacuum to pull pollutants from the skin and body.
Hot stone massage
- massage with heated lava stones, which also attach to specific points on the body. The influence of heat vibrations occur, which positively affects the energy pathways in the body. Massage warms the whole body, stimulating blood circulation, lymphatic system and helps detoxify the body. It not only relaxes, but relaxes stiff muscles, relieves pain and use quality oil also softens the skin.
Aromatic massage
- Aromatherapy massage combines the effects of natural fragrant essential oils with a touch of the masseur, inducing relaxation and mental relaxation. The scent of essential oils effect on depression, apathy and also relax muscles and relieve pain. Part of aroma therapy is also inhalation of essential oils from aromatic lamps.

Head massage migraine

- the mixed oil according to a special recipe is made massage that soothes the mind and at the same time, improves blood circulation in the scalp. This activates the energy centers of the head.

Foot massage
- the whirlpool bath followed by massage of the feet.
Chocolate massage
– relaxing the body, promotes lymphatic system is slightly detoxification and provides the body with energy.
Massage with a jar (flask)
- is a highly effective technique in depth stubborn muscles release when, after sucking oxygen from the flask and its subsequent applied to the skin to create a vacuum, which suck the skin with subcutaneous fat, is achieved by intensive blood circulation, relaxation and faster drainage of toxins from the body.
Massage Scented Candles

- relaxing, harmonizing massage that induces mental and physical balance. This unique procedure used specially designed candles which are intended to massage. It is not the wax, but the solid fragrance oils which are melted by heating and than pour nice warm on the body.
Body Wrap
– scented butter is massaged into the body. You will feel relaxed, your skin will be beautifully blood circulated, improved and soft.
Body Scrub + spa bath with aromatic salts
- massage which promotes blood circulation and cleanse the skin, fragrant peeling creates a pleasant mood after this procedure is followed with scented bath salts.
Wrap in banana leaves
– banana leaves creates a pleasant heat that melts at body peanut butter. A nice relaxing massage.
HYDROTHERAPY
Whirlpool tubs are relaxing device operating on the principle of hydrotherapy in combination with the air massage underwater massage jet of water. Hydrotherapy not only relaxes muscle tone, also tunes the metabolism, improves blood circulation, reduces tension and stress and increases overall immunity.
Bath additives
- we offer a variety of herbal or fruit extract salts. Due to its composition, some ingredients aid in the treatment of eczema and dermatitis.
Bubble bath
- a bath with a gentle massage with air bubbles in water with a temperature of 35-38 ºC causes better blood circulation and overall relaxation. Its mildly sedating affects insomnia, neurosis or psychosomatic illness. The bath is also to release muscle tension, so effectively used in the treatment of the musculoskeletal system.
Underwater massage
- massage intense stream of water at 37 ° C is applied using a masseur in a massage hose nozzle. It helps relieve muscle tension, relieves joint pain and contributes to proper blood circulation.
Total whirlpool bath
- a bath, which leads to intense full body massage a thin stream of water from nozzles around the perimeter of the tub, relieves muscle spasms and has a favorable psycho-relaxation effects.

Whirlpool bath limbs
- and there has mechanical energy of flowing water - de facto the case of hydro massage of the upper or lower extremities, which promotes blood circulation, relaxes muscles and relieves swelling. The effects of bath water temperature influences.
THERMOTERAPHY
Have beneficial effects on physical and mental condition, but not all treatments are suitable during pregnancy and certain health problems. Therefore, the selection rather consult in advance with our wellness staff.
Thermospa
– a pleasant feeling of relaxation to the tempered water bed, we recommend you as well. First, it is applied wrap of your choice – if you want it. Then lay on the bed, you are wrapped in a bag. As the bag fills with water under you, you pick up the device. Very pleasant relaxation is associated with underwater massage from a 20 ntegrated nozzle with adjustable intensity. ThermoSpa is a unique solution for the application of cosmetics and body wraps. The whole procedure takes about 20 minutes and warm water can be 37 to 40 degrees. Recovery is possible with or without a wrap. Different types of wraps brings calm during mental and physical strain, have cleansing and detoxifying effects, improve metabolism and has a positive effect on the whole organism.
Peat pack
- a single peat are recommended to warm up the muscles before and classical massage in the treatment of musculoskeletal diseases.
Paraffin wax
- paraffin hand wraps intensively regenerate stressed skin on the hands, which are after the application really soft and smooth. The application improves blood circulation and tone the skin, accelerates metabolism in the skin.
Finnish sauna
– dry sauna is heated with lava rocks at a temperature of about 90° C, which is splashed with cold water, increasing humidity according to customer needs.

Infrared sauna
- is a new phenomenon in thermotherapy, when the body is heated by infrared-trasmission. With a lower air temperature (approx. 55°C) is very popular and used mostly by people with physical limitations that stay in a finnish sauna impossible. Supports burning calories and helps to solve overweight.
Steam Bath
- the temperature reaches a maximum of 50°C and high humidity. Deepens total relaxation, rids the body of impurities and has a relaxing effect. Not only clears and revitalizes the respiratory tract, has a very positive addition to the facial skin and rejuvenates its overall look.